Dear MIPTV,
Thank you so much for having me. What an amazing few days!
As the producer of Pop Paper City – an upcoming 3D preschool craft and adventure series airing on Milkshake UK at the end of this year – attending MIPTV this year was an especially exciting time! MIPTV has always been an important part of Pop Paper City's success, and this year was no exception.
The Stand
Like in previous years, Pop Paper City was featured at Aardman's stand. This meant I got to spend a few incredible days with our wonderful distribution team.It's always brilliant to be back at MIP with Aardman, as it was at MIP that we first pitched the project to Aardman (this was a couple of years back now!). It was that pitch at MIP that started our relationship with Aardman, who are now the  distribution partners for the show. It was another fantastic few days at the stand this year, and we were able to have some exciting chats and meetings with international broadcasters and partners.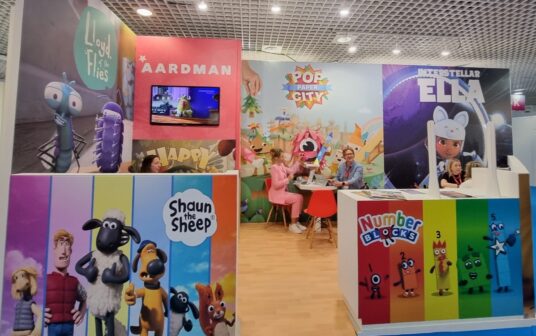 Development Journey – Why MIP is so important
Being back at MIPTV again reminded me of all the great experiences I've had with you over the past few years; MIP has been a key part of Lovelove Films and Pop Paper City's exciting journey.  Along with the fact that we first pitched the show to our distribution partners, Aardman, at MIP, we have also seen success at  MIPJunior where the series was one of top ten most viewed in development and then MIPTV 2020, where Pop Paper City won the Kids' Series Pitch! Winning the Kids' Series Pitch was fantastic for the development of the show bringing great PR opportunities, and it's yet another fond memory that makes spending time at MIP special for me. A few years on, and Pop Paper City is Greenlit and now in full production, and we are selling the show globally – what a journey it's been, and MIP has been with us all the way!
Producer to Watch
It was also fantastic to be included as a Producer to Watch this year, after being included in 2020 also. It's such a great way of helping producers to meet other creators and buyers from around the globe, and I had so many positive conversations and meetings this year and of course it was so great to catch up with so many people I haven't seen in person due to Covid19!
Thank you again for everything MIP, and I hope to see you again very soon and carry on our incredible journey further!
____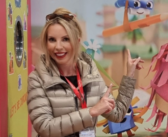 The letter to MIPTV has been written by Georgina Hurcombe, currently Producing Pop Paper City 52 x 11 preschool series distributed by Aardman to be released later part of 2022 on Milshake!. Funded in part by the BFI YACF. Owner of LoveLove Films LTD Independent Animation and Video Production Company, Lovelove is producing an array of original content focused on the Childrens TV landscape.
****
Login to the MIPTV platform now to continue your digital experience here until April 30!
Want to return to Cannes? Attend MIPCOM!
TV trends in your inbox? Fill in your details to subscribe to the MIP Newsletter →