More than 20 years ago, two now well-known Simons met Alan Boyd, then Head of Thames TV, and pitched an idea for an ambitious new TV show to "identify an unknown British singing star". We all know what happened next. They created a talent show that changed the music industry, product placement, helped make texting a thing, and laid the groundwork for a host of new shows set to transform Saturday night entertainment, with a mixture of live judging and public voting. Of course, I'm talking about Simon Fuller and Simon Cowell and their legendary hit show "Pop Idol" a.k.a "American Idol".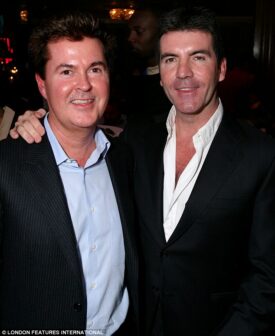 While "American Idol", which will celebrate its 20th anniversary when it returns on February 27, is still going strong, it's interesting to see that Simon Fuller has turned to TikTok now to find new talent. The first group ever to be born on TikTok is called "The Future X" and made up of three singers and four dancers.
According to Variety, they all auditioned last fall by posting a video of themselves on TikTok using the hashtag #NextInMusic. From the more than 300 million views generated from the hashtag, Fuller was able to cull an impressive shortlist from which the final seven group members were chosen. The entire process can be viewed online at the group's hub on TikTok @thefuturexofficial and you can also follow their current adventures.
Fuller said about the process: "TikTok was the perfect platform from which to discover new talent." And not just for singing and dancing talent. The Future X is also teaming up with beauty company e.l.f. Cosmetics to find aspiring makeup artists who will work with the group.
e.l.f. Cosmetics, a Gen Z favorite, is already known as a pioneer when it comes to TikTok storytelling. Back in 2020, they launched the first Reality Show on TikTok dubbed "Eyes. Lips. Famous."  The show offered three lucky TikTok creators the opportunity to build their skills with some of TikTok's most notable influencers, Avani Gregg, Madi Monroe, and Seth O'Brien (who were also judges on the show).
Following its success, e.l.f. Cosmetics took it a step further for Christmas 2021 and debuted its first crowd-sourced holiday movie called "Big Mood, Big e.l.f.ing City" on TikTok. The plot of the holiday movie follows Ash, played by relatable TikTok star Fia James (@fiajames_), who heads to the Big City to surprise her bestie only to discover he's out of town for the night. Happily, four holiday e.l.f.– e.l.f.'s holy grail products Big Mood, Petty Primer, Camo Cutie and Power Grip Primer, voiced by the big personality of Adam Ray (@adamrayokay), help Ash make the best of the situation by leading her on an epic holiday adventure. Along the way, they meet additional "slay belles" with special appearances by @Glamzilla, @thekalenallen and @vanessafpena.
Throughout the feature, viewers could enjoy throwbacks to key TikTok moments culled from trends and viral videos from 2021. The three, three-minute segments, also included well-timed meme references and clever use of platform-native effects, like green screen video.
And to help with engagement, e.l.f. asked regular TikTok users to audition for parts in "Big Mood, Big e.l.f.ing City" by duetting with the influencers featured. Twelve winners make cameo appearances in the final product. E.l.f. additionally partnered with "Modern Family" actress Sarah Hyland, who was sharing her favorite holiday movie traditions on TikTok.
Brands are usually more likely to be early adopters of new platforms and new storytelling techniques than TV producers, so here's another branded entertainment example, but the story is told as a Telenovela. Chispa, the largest Latinx dating site, created an interactive comedy telenovela for their TikTok account called "Tres Bombones". This first of its kind show let users play matchmakers by asking them to pick the best match for the main character, played by influencer and actress Leli Hernandez. Viewers were able to enjoy the six-episode scripted interactive series twice a week on the Chispa app's TikTok channel @chispa_app, where they could closely follow Leli in her search for the participant who will win her heart.
One of the first narrative series to be created for and released on TikTok, was Australian series "Love Songs" back in early 2020. The series has amassed almost 150.000 Followers and 2.8 million Likes across its two seasons by now. Following its success, the producers of "Love Songs" Hayley Adams and Michelle Melky went on producing another series called "Scattered" – the first TikTok series to receive development and production support from Screen Australia. The 38×1 mins drama series follows Jules, Sami and Bo who have just attended the funeral of their best friend Wil. Wanting to honor him in the way he truly deserves, they take his urn for one final night out to all his favorite haunts before his parents scatter him the next day. There's just one problem: they wake up the next morning wit
hout Wil's ashes. Through flashbacks we learn about their friendship and the unique relationship each of them had with Wil as they revisit the stops on the previous night's farewell tour. From late night kebabs to spectacular drag king shows, we follow their exploits as they race against the clock to find what's left of their friend. "Scattered" has almost 50.000 Followers and more than 500.000 Likes on TikTok.
From talent and dating shows over holiday films to telenovelas and drama series, the storytelling opportunities on TikTok are endless and exciting. It holds enormous potential for both, emerging filmmakers and established format creators who want to reach a Gen Z audience or try out a new format to see if it sticks. While it's getting harder and harder to build up an audience on Instagram and YouTube, TikTok's algorithm helps you to find your audience.
The only question left now is, do you think Simon Fuller's The Future X will be bigger than Simon Cowell's One Direction?