Guest piece from the Creative Strategy Director Sandra Lehner
I was recently on a panel about Gen Z content where we discussed whether there was really a difference in generations or whether it came down to different socio-economic upbringings. While I don't think someone born in 1993 or 1997 will be much different (Gen Z is born from 1995), I do believe there are generational differences. Gen Z is the first digital-native generation. Gen Z is the most diverse generation ever. Gen Z grew up during times of crisis. And this affects the content they are watching and how they are watching it.
While Millennials were called the "second-screen"-Generation, Gen Z is more of a "five-screens"-Generation. Their attention span is 8 seconds, compared to 12 seconds for Millennials. They want diverse representation. But it must be authentic, first and foremost. That's why they prefer social media influencers over Hollywood celebrities. And since they are growing up during turbulent times, they are quite conservative and like to learn or get inspired.
Now what does that mean for TV producers? Here are a couple of stats that drew my attention recently.
TikTok vs Wallstreet & Hollywood
The first one was in Scott Galloway's weekly newsletter, and it showed that the top TikTok creators make as much money as a Fortune 500 CEO or an iconic Hollywood actor who has just shot one of the biggest Hollywood sequels of recent years (The Matrix Resurrections and Top Gun: Maverick respectively):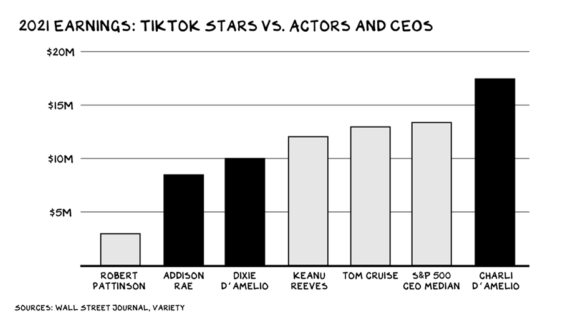 A British producer was telling me recently that there are more young people in the UK applying to appear on reality show Love Island than to attend Oxford or Cambridge University. And when you look at the graphic above, I believe that.
The money comes, of course, from brand endorsements and brands put their money where their target audience's eyeballs are – a.k.a. attention. As Netflix CEO Reed Hastings once put it: "It's not about winning the streaming wars, it's about winning the attention wars."
So where is Gen Z's attention when it comes to content?
Professionally vs. Content Creator Produced Content
According to a survey commissioned by music video platform Vevo and media agency Publicis Media, Gen Z watches 48% content creator produced content and 52% professionally produced content: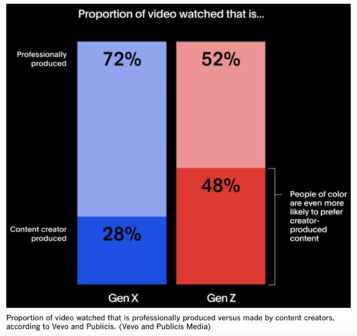 The survey also showed how Gen Z is watching content. The typical Gen Z-er's media consumption starts with casually scrolling TikTok and Instagram Reels in the morning, switching to YouTube around lunchtime and turning to Netflix or Hulu in the evening for the latest must-see comedy or drama. This means they catch up on their friends, including their favorite creators, in the morning, learn something new or get inspired during the day, and then have a lean-back experience before they go to bed.
"Gen Z looks at entertainment differently," Megan Halscheid, vice president of marketplace intelligence at Publicis Media said. "They consider scrolling through TikTok as a form of entertainment, and that's almost competing with some of the network content that's being put out there. It's personal and it's self-programmed, and they want to see content that reflects them and their likes and interests."
TikTok vs Instagram
This is an interesting insight because Netflix and Instagram are losing ground due to their algorithms that don't give their users what they want to watch. My Instagram feed, for example, is full of sponsored and suggested content. I hardly see any content from the people I follow anymore. On a sidenote, TikTok has a tab where you can see the content your friends create and a tab with new content that's based on what you've been watching mostly. Therefore, it doesn't come as a surprise that TikTok now commands more attention per user than Facebook and Instagram combined. Downloaded more often than any other app for each of the past five quarters, it was the world's most visited site in 2021. TikTok has 1.6 billion monthly active users — more than Twitter, Snapchat, and LinkedIn combined.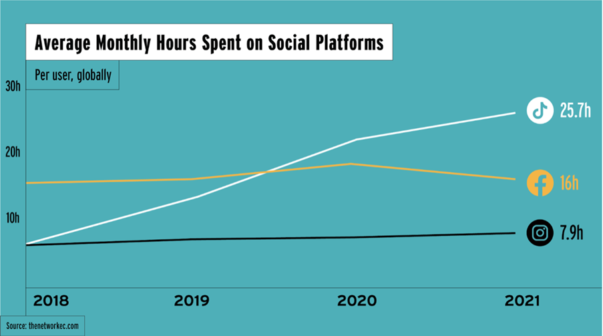 Compared to Facebook and Instagram, YouTube and TikTok are enormously successful because they focus on their creators and their content. Their focus is finding the right audience for their creators and giving the creators the right tools to create entertaining content that people want to watch. As Scott Galloway said in his newsletter: "TikTok bills itself as a social media company, and the app is disrupting Meta by virtue of usurping attention. But that's not all it's doing. You can like, comment, and share, but these features exist as leverage points for one thing: watching videos. TikTok is a streaming platform."
TikTok vs. Netflix
And TikTok's content offering, and algorithm are better than Netflix's and that's also reflected in the revenue. Over the past four years, ByteDance (TikTok's parent company) has gone from half of the revenue of Netflix to double. Six months ago, Netflix was worth more than $300 billion – now it's at $80 billion. While ByteDance is currently the world's largest unicorn with a market valuation of about $360 billion.
Also, keep in mind here that Netflix invests billions of dollars in capital to create content, while TikTok gets millions of hours of programming for free. And even though Netflix is currently changing this, as of now the streaming giant has a paywall and TikTok is free and ad-supported.
Should we all become TikTok creators now? The answer is jein (that's yes and no in German). Long-form content on streaming platforms is still high in demand, but to get the Gen Z eyeballs in the evening, you should promote your content during the day where your audience is and in a way that's platform-native. Netflix, for example, created a song recently starring their top reality stars to promote their dating shows on the platform.