After its CANNESERIES and MIPCOM 2021 premiere Beta Film's  romance has now sold to more than 100 territories.
AT MIPTV 2022, leading producer/distributor Beta Film reported that filming was just starting on a second series of lavish period drama Sisi. The decision to greenlight a new season came after the first run of six episodes secured sales in over 100 territories. "The show achieved record ratings for Sisi's commissioning broadcaster, RTL Group in Germany," Beta Film's chief distribution officer, Oliver Bachert, says. "But the fact it has travelled around the world also illustrates universal demand for compelling period dramas with strong female characters."
Sisi tells the true story of a Bavarian princess called Elisabeth (Sisi) who falls in love with the emperor of Austria, Franz Joseph I. Set at the end of the 19th century, it explores the upheaval in her life when she marries Franz and becomes the star of the Viennese high society. "Sisi's life is a well-known and much-loved story in Europe," Bachert says, "because it was the subject of three films made in the 1950s starring Romy Schneider. Those films have continued to be very popular during the holiday season in countries like Germany, France and Italy."
News that RTL wanted to reboot the story for TV first started trickling out around Berlinale in 2021 – when it was revealed that the broadcaster was developing an updated version with Germany-based producer Story House Pictures.
"The initiative came from RTL, but we become involved very early. It made sense for Beta Film to be part of the financing of the project because we handle the original movie trilogy, so the story is in our DNA," Bachert says.It's the equivalent of something like The Sound Of Music
For Beta Film it was a no-brainer to get involved in the reimagined Sisi, "because it is such a well-recognised brand in its core markets. It is no sot well-known in English-speaking markets, but to put it in perspective, it's the equivalent of something like The Sound Of Music."
It was obvious early on that RTL's reboot was going to be a high-end production, Bachert recalls: "RTL wanted Sisi to debut on their streaming platform RTL+ (formerly called TVNow) before moving over to the linear channel RTL. They wanted it to promote the new RTL+ brand, drive subscribers and also be an event on the linear channel. So in terms of the tectonics of financing, it meant finding key pre-sale partners to support that quality of production."
Ensuring that Sisi would be a creative landmark wasn't just about the amount of money being put on the screen, Bachert stresses. "Times have changed since the 1950s movies, so it was important that the tone of the show was relevant to a modern audience that is used to a new generation of period dramas like Bridgerton, The Crown and The Spanish Princess. It was important Sisi captured of a sense of the central character's celebrity and influencer status."
New and fresh – not just nostalgic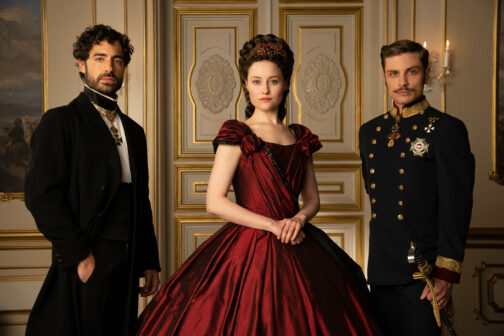 The decision to channel a more contemporary energy into Sisi's story quickly found support in territories familiar with the Sisi story, says Bachert. "If we had just gone to the market with a conservative remake of the movies, I don't think that would have appealed to the audience or the buyers. But the idea of a leading private broadcaster backing an ambitious reboot gave everyone the confidence that it would be new and fresh – not just nostalgic." Key European buyers included ORF Austria, TF1 France, Canale 5 Italy and Mediaset Spain. "The project also attracted interest in Central Europe," Bachert says.
"It played on RTL in Hungary and Viasat World's Epic Drama channel across the rest of the region. It rated well in all those territories."
While Sisi is a popular story in Europe, a key challenge across the rest of the world was convincing buyers they should be interested in a 19th-Century love story set in Vienna. Arguably this challenge was exacerbated by the fact that the pivotal role of Sisi was handed to a relative unknown, Dominique Devenport. And then there was the minor matter of a global pandemic: "Obviously COVID-19 made it more challenging to sell Sisi," Bachert says, "because there were fewer opportunities to see buyers face-to-face. And it is always harder to get people enthusiastic about new projects over digital platforms like Zoom."
Fortunately, the pandemic clouds parted briefly in late 2021, making it possible to premiere Sisi at CANNESERIES. "Because of the pandemic, CANNESERIES in 2021 was moved to coincide with MIPCOM in October. That provided us with a great opportunity to showcase the production to a wide pool of buyers. In my mind, there is no question that the ability to screen new productions in this way helps boost the marketing effort. We showed buyers some material at a summer upfront event, but hosting this screening allowed people to network and talk to each other – not just listen to what we say about our own IP."
Cannes was a charming reunion for us all
After the enforced postponement of so many live events in 2020/2021, Bachert says being able to come to Cannes with Sisi was "a charming reunion for us all. And it wasn't just about the international sales effort. It was also exciting for the cast and production crew to celebrate in Cannes, as reward and recognition of their efforts in making such a great series."
Bachert says having Canneseries run concurrently with MIPTV or MIPCOM is a particular benefit. "There's something very powerful about having a screening event and a sales event running alongside each other. It creates a buzz that can immediately translate into business. And it generates the kind of feedback that you can't capture from the digital platforms."
Bachert says there are three good reasons why buyers that didn't already know Sisi were happy to embrace the show. "Firstly, it's an empowering story of a young women having to adapt to a rigid world that she has no experience of. Secondly, it is very romantic, which is exactly the kind of content that has been working well in the current climate. And finally there is the quality of the production." With fabulous locations, stunning architecture and sumptuous dresses, Sisi was exactly the right kind of series to premiere in the Grand Auditorium of the Palais des Festivals.
Regions that have now bought into the Sisi reboot included Latin America – where Starz Entertainment and Globo Play have secured rights – the latter for Brazil. "We're still in negotiations with English-speaking markets," Bachert says, "but we have already secured a deal with Canadian pubcaster CBC and its streaming service CBC Gem. We also licensed Sisi to French-Canadian pubcaster Radio-Canada for its streaming and TV services."
Working across streaming and linear
This ability to work across streaming and linear platforms is a key feature of Sisi and probably reflects the fact Story House was making the show for both RTL+ and RTL. "As we have sold around the world, we have found it works across the full range of platforms."
Aired in late 2021, Sisi reached the multiple goals set for it by RTL. As a result, it was a relatively straightforward decision for the partners to commit to a second season of six episodes. Bachert expects this follow-up series to be a prominent part of Beta Film's scripted offering at MIPCOM in October, "although the nature of the sales discussions changes – because now a key part of the distribution job is talking to existing buyers about their experience with the first season and the progress being made with the new season."
In terms of securing new territories, being able to come to Cannes with 12 confirmed episodes will make the franchise more appealing to some platforms. So does he anticipate it running for years – like The Crown and other such shows? "Discussions haven't progressed beyond season two yet, but keep in mind that the 1950s version of the story was told in three parts. So there would be a logic to having a similar editorial structure for the new TV version."