Guest piece from the Creative Strategy Director Sandra Lehner
On my way to MIPTV, I watched Spider-Man: No way Home on the plane. I'm not a big Marvel or DC comics fan, but I loved this movie. If you haven't watched it yet, please be aware that the following paragraph includes spoilers.
Why did I love this movie?
First, it brings back the best villains from the past, which helps setting up the multiverse as a tangible construct, specifically for the next Doctor Strange film. It not only brings back the villains, though, it also brings back the former Spider-Men. However, in a media world full of reboots, getting nostalgia right is a skill and Spider-Man: No way Home is like a love letter to the previous Spider-Man films. All the villains get redemption arcs, and we get to see them interacting with their original Spider-Men, played by Andrew Garfield and Tobey Maguire. And the former Spider-Men get to round out their own storylines, too. Because of decades worth of nostalgia and time spent with those characters, it's just so gratifying to see these storylines getting resolved – unlike the Lost finale which left us so confused ten years ago.
The Marvel and DC comics have always used a storytelling technique we used to refer to as "Transmedia Storytelling". Transmedia Storytelling goes back to American media scholar Henry Jenkins who introduced this storytelling concept back in 2003.
Henry Jenkins defined it as follows: "Transmedia storytelling represents a process where integral elements of a fiction get dispersed systematically across multiple delivery channels for the purpose of creating a unified and coordinated entertainment experience. Ideally, each medium makes its own unique contribution to the unfolding of the story."
This means much of Transmedia Storytelling is not based on singular characters or plot lines, but rather focuses on larger complex worlds where multiple characters and plotlines can be sustained for a longer period. One example that Jenkins gives is DC Comics releasing comic books before the release of its related films, so the audience understands a character's backstory.
Now why is this important to producers and streamers nowadays? I believe tapping into fan communities and expanding story worlds is how to win the streaming wars.
According to Guy Bisson's, Co-founder of Ampere Analytics, presentation at MIPTV, Disney+ saw the biggest sign-up with the premiere of The Mandalorian – a new Star Wars series.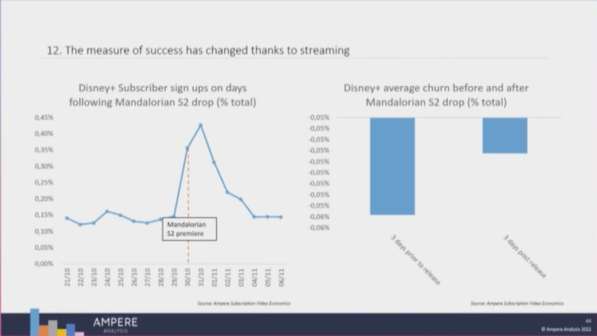 Paramount+ reported Halo became the most-watched original series within 24 hours. Halo has been delighting video game fans since its inception in 2001, and the series is just another element to feed their love for the franchise.
And Season 2 of Netflix's hit period series Bridgerton – based on a successful book series – surpassed its own Season 1 to become the most-watched English-language series debut ever on the streamer and saw a big sign-up, too.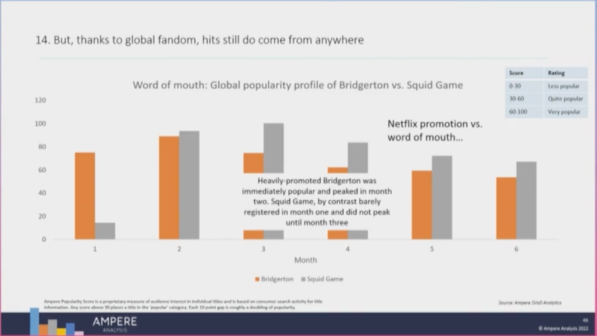 However, as Guy Bisson pointed out in his presentation, you don't win the streaming wars with sign-ups, you win them with retention, meaning follow-up seasons, spin-offs, specials, and events which cater for retaining audiences. Spin-offs such as Bridgerton's upcoming spin-off about Queen Charlotte and specials such as the HBO Max Originals Friends: The Reunion and Return to Hogwarts.
It's all about creating story worlds and then letting the fans explore these worlds more and more over time. In other words: it's all about IP.
In his MIPTV keynote, Candle Media's Kevin Mayer, who led the launch of Disney+ in 2019, confirmed this, too. Disney's strategy under Bob Iger was buying IP. That's why they bought Fox, Pixar, Lucasfilm, and Marvel. He also said that Disney+ doesn't compete with the likes of Netflix and HBO Max as they have a very different audience, they focus more on serving their audience by expanding their story worlds.
One important aspect of Transmedia Storytelling is reaching different audiences on different platforms. Henry Jenkins focused on how transmedia extends to attract larger audiences. For example, DC Comics released coloring books to attract younger audience members.
At MIPTV, Jonathan Watson, Chief Product Officer at The Insights Family, also talked about how entertainment franchises like Fast & Furious and Batman have different character touchpoints across ages.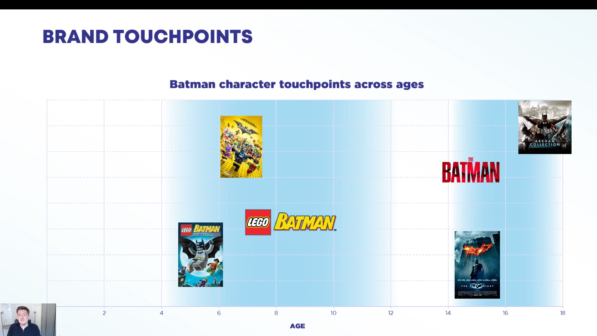 But not only big Hollywood franchises are producing content for specific audiences on specific platforms.I recently spoke on a panel at Rio2C in Braziland found out that the latest Big Brother VIP finale was the biggest Big Brother finale to date. However, the two Brazilian Gen Z producers on my panel, the Abdala Brothers, told me they had never watched an episode on TV, but had followed the happenings on the show very closely on social media. Other franchises that are huge in Brazil and EndemolShine Brazil is producing content specifically for Gen Z on social media are MasterChef Brasil and Masked Singer. It's not a "marketing after thought" for EndemolShine Brazil's Digital Director Izabela Ianelli, it's content specifically produced to reach this audience where they are.
Do these observations have any implications for mid- or small-sized producers, who can't afford buying existing IP? I believe so. If you can show a streamer or broadcaster that your show has the potential to become an entertainment franchise or long-running show that creates value for them over a longer period of time, it'll pique their interest.
Of course, no one can guarantee longevity, but I believe we're moving away from Netflix's "2 seasons"-model to Disney's "story world"-model, and producers should spend more time on crafting the life cycle of their format or drama series. By signing Shonda Rhimes, whose medical drama series Grey's Anatomy, for example, has been running for 18 seasons and has had several spin-offs and adaptations, and Ryan Murphy, who created long-running shows such as Glee and American Horror Story, Netflix already started investing in talent who can create story worlds.
And the need for longevity doesn't only apply to fiction, but also to formats. According to K7 Media's report "Tracking the Giants", these are the Top 5/6 formats ever: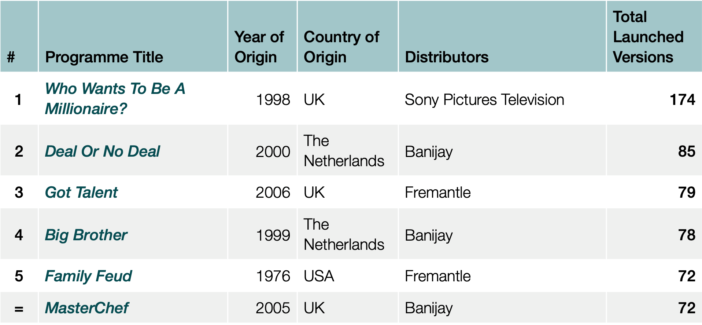 These formats are almost all 20 years old. Admittedly, to have 174 launched versions, a format must be around for quite some time. But even if you look at the new launches in 2021, half of the formats are 20 years old: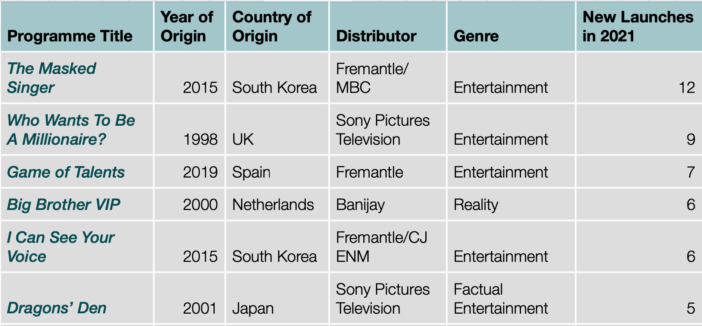 When it comes to formats, it's about anticipating how this format could be refreshed over time and one of the best examples is the recent season of Big Brother in Brazil.