Ad supported video on demand (AVOD) has been steadily gaining momentum among a TV industry keen to look beyond subscription video on demand (SVOD) as the primary streaming future of TV. What is the AVOD's Post-Lockdown Opportunity ?
AVOD and COVID-19 lockdowns effects
COVID-19 lockdowns increased streaming consumption in 2020, benefiting all the leading AVOD services. Growth in WAU (Weekly Active Users) activity was steadily upward for the Roku Channel and Pluto TV. However, IMDb TV saw a Q2 spike followed by a Q3 decline. This still left it slightly above its Q1 WAU engagement. Conversely, Tubi TV saw a slight decline before returning to nominal WAU growth in Q3 2020.
The industry rationale for AVOD enthusiasm is straightforward; in the pre-digital era, the majority of both revenues and attention was commanded by free-to-air TV. Since SVOD gained market traction with its contract-free, on-demand functionality backed up by zeitgeisty original scripted drama, traditional TV has seen a steady exodus towards streaming.
The incremental transition has snowballed under lockdown, with SVOD subscriptions and binge-viewing now dominating pay-TV and linear TV viewing generally. SVOD is now synonymous with on-demand for the mainstream consumer, which presents an existential challenge for the media majors such as Fox Corp. and ViacomCBS, which depend upon a broadcast TV -ad revenue model for the bulk of their revenues.
Add to this the challenge of peak subscriptions raising its head as 'in real life' (IRL) alternatives start to kick in following mass vaccination rollouts, and an increasingly revenue-constrained digital market now requires new monetisation levers to pull.
AVOD until now has been caught in a holding pattern with industry executives struggling to figure out why the streaming iteration of free-to-air TV has not enjoyed the same level of streaming engagement success achieved by SVOD.
AVOD and its early-adopters
In a 2019 report, US Streaming Video – How Ad Supported Will Reshape the Market MIDiA highlighted that AVOD has found itself pigeon-holed as a niche consumer activity due its early-adopter userbase tolerating advertising through gritted teeth as they enjoyed the benefits saved on subscription fees. These, young digital native consumers, over-indexed for digital savviness, and under-indexed for income and ad-responsiveness, both of which undermined the core AVOD competitive advantage of targeted and accountable ad ROI.
In Q3 2020, AVOD found itself in a challenging situation in the US. WAU penetration rates remain under 10%. This makes the business case for additional ad budget allocations difficult. Alongside the limited audience footprint, there is the bigger challenge of a user base of digitally-savvy AVOD WAUs who are predominantly ad-antagonistic, and thus particularly unresponsive to conventional digital advertising.
AVOD's core heritage of digitally-savvy users plays out in how its current WAUs respond negatively to most advertising engagement. This inherently creates a conversion challenge for advertisers looking to reach consumers through AVOD services. Traditional TV and display advertising will not work for these existing AVOD audiences. Therefore, the onus is upon AVOD services to work with advertisers to adapt their digital ad strategy for the specific use case of AVOD. A strategy that focuses on niche and difficult-to reach audiences could pay dividends here.
The rise of the silver streamer phenomenon
However, the good news for AVOD is that it is now poised to move into the mainstream due to the rise of the silver streamer phenomenon. The 12% of additional digital entertainment time available to  consumers as a result of remote working  and the pause in IRL  entertainment options during the great lockdown has propelled the 55+s into becoming engaged video streamers.
AVOD's Post-Lockdown Opportunity Figure 1: 55+s are the least likely to skip video ads
Question asks: Thinking about adverts, please indicate which of the following apply to you?
I usually skip video ads online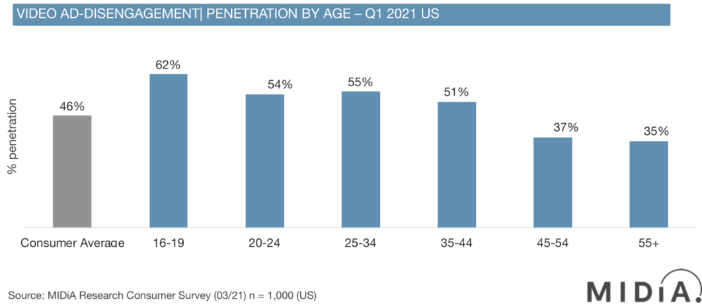 Silver streamers have not only embraced digital-first behaviour by dominating binge-viewing (since Q4 2020 they have been the largest demographic for binge-viewing in the US); they also retain many of the core TV behaviour of linear TV. The most notable of which for AVOD's fortunes are the willingness of 55+'s to tolerate ads.
As the above chart shows, while 46% of all consumers skip online video ads, for silver streamers, this declines to 35%. Contrast this with the 25–34-year-olds who make up 30% of Pluto TV's weekly active users (WAUs) and 31% of Tubi TV's WAUs, in the US in Q1 2021 (Source MIDiA Research Q1 2021 consumer survey.)
With over half of 25–34-year-olds usually skipping video ads, this means that nearly a third of the user base of AVOD's two leading services actively engage in video ad avoidance as part of their regular digital life.
The monetisation contrast between silver streamers versus the existing AVOD consumer base is clear. As is the opportunity to bring them into the AVOD ecosystem now, while they are still familiarising themselves with streaming and enjoying the novel of on-demand video consumption.
AVOD's Post-Lockdown Opportunity – Back to real life
As IRL starts to peel TV audiences away from the home screen, the battle to create a compelling VOD proposition is now beginning. Done correctly and the legacy behaviour tolerance for ads among silver streamers can translate into two favourable outcomes for AVOD: firstly, substantial user growth and secondly, crucially delivering a target audience for advertisers which resembles free-to-air TV in its breadth and discretionary spending ability.
"This all adds up to a mainstreaming opportunity for AVOD, delivered by the new wave of silver streamers engaging with the VOD ecosystem, but the opportunity to deliver upon this is finite. MIDiA explored in detail how it can be achieved during a webinar on July 7, 2021, featuring leaders from Rakuten TV, Pluto TV and Xumo. You can watch the webinar here and download slides from the presentation here."
For more details visit: www.midiaresearch.com.
TV Trends in your inbox? Fill in your details to subscribe to the MIP Newsletter →
For more information on TV Trends, attend MIPCOM and MIPTV
You can read also :
Covid 19 impact on the TV Industry
Super aggregators of TV content