2020 was a year like no other for all industries. Whilst the impacts on the television industry are ongoing, the conditions facing Broadcasters, Streamers, Pay TV operators and Content Owners have worked together to create a Perfect Storm.  COVID-19 has accelerated change, fast-tracking the rollout of Direct- to-Consumer (D2C) services and increasing the pace of transition to Digital. In our 2021 Trends survey, 98% of respondents agreed that the pandemic has accelerated broadcasters' plans for digital migration.
This means more online services will launch, adding to the growing list of US streamers such as Discovery+, Paramount+, HBO Max and Disney's Star. And local services that are related to local broadcasters and standalone.  This creates more choice for content in a world where choice was already at a confusingly high level for consumers.  This makes the conditions perfect for aggregators attempting to make sense of this world for consumers.
This story of aggregation is not new. Back in the 80s, the explosion of channels generated a need for aggregation.  The Pay TV walled garden was formed and the Electronic Programme Guide (EPG) was born in 1990.  Since then, there have been multiple developments (not least the internet) impacting the viewing experience and adding choice.
Fragmented market for TV content
We now have an incredibly fragmented market for content and the services offering that content.  This is  making it difficult for services to be heard and seen – potentially increasing subscriber acquisition costs and adding to challenges around customer retention.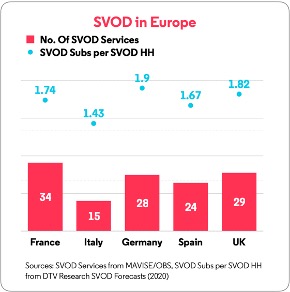 The issue of aggregation has now reached a tipping point for video services.  A new breed of aggregators are battling to help consumers navigate the vast amount of content online, by bringing content and channels into one interface.  Some of these are disruptors (e.g. Amazon, Apple and Google), others are more established (e.g Pay TV operators and Smart TV manufacturers). However, everyone is agreed there is a clear need towards aggregation that offers universal content access, with strong and effective search and recommendations functionality and a single point of billing.  Beyond that are also bundling opportunities to provide economies for the consumer.
With SVOD alone, the number of options available to consumers is growing fast – and with that the number of SVOD subscribers estimated per SVOD home is also growing to 1.74 on average globally. The consumer is going to need help finding and keeping up with the content out there.
Types of Aggregators
There are multiple types of aggregators. Many are now focused on taking the role of a "Super-Aggregator" – to provide access to all of a households video services on the primary TV device in the home. For others, their core business dwarves any current aggregation activity and they may exist in a secondary role and not emerge as a super-aggregator – but they will play important roles for some segments.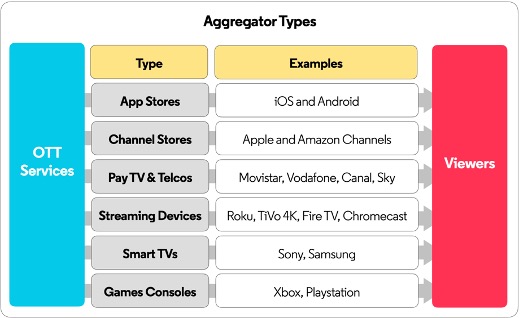 Aggregators have very different aims and objectives, but include App Stores, Smart TV manufacturers, Streaming devices and Games Consoles.  Apple and Amazon play a role both in terms of their hardware devices (Apple TV and Amazon Fire) and their channel stores (Apple Channels and Amazon Channels).
2020 was notable for the very public arguments between new D2C services such as Peacock and Roku.  Roku's scale at over 50 million active accounts points to its importance as an aggregator of these services. It is telling that Wall Street is now focusing more on distribution relationships – perhaps a factor of these great fall-outs like Peacock and HBO Max with Roku and Amazon Fire TV and the realisation that they deliver significant numbers for many.
In a recent Hollywood Reporter interview, the Discovery International President and CEO JB Perrett said when speaking about the launch of their D2C service Discovery+ that "Partnerships give us access to a user base that is 10 times-plus what our traditional pay TV universe was".
Streaming services will continue to place more importance on distribution partnerships both traditional and mobile, across multiple territories.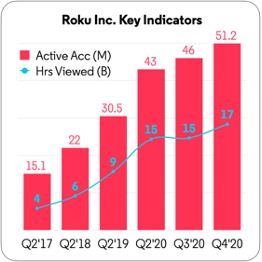 Throughout 2020 Pay TV has increased its levels of activity with OTT services and displayed an openness to integrate with them. With Pay TV the discussions become more layered. In addition to being well placed with its primary position in the home, it is Pay TV who can go the deepest in terms of relationship.

Aggregator Functions
There will be new challenges as aggregators and services fight for leverage. Whether that be over data sharing, surfacing of services, UI placement and positioning, paid promotion/search, or even as seems was the case with Peacock in the US, the sharing of additional revenues like advertising.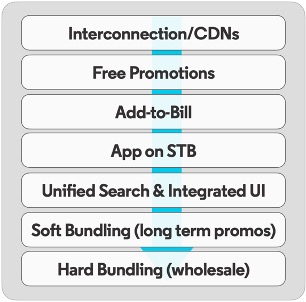 Pay TV now offers extensive options, including accessibility, UI, marketing, discovery, bundled subs etc.  Earlier Pay TV and OTT relationships were about interconnection and network traffic but this began to change from early 2013.  Mobile Telcos were quick with free SVOD offers, billing and Pay TV STB App launches followed and then deeper integrations with the STB.
Longer term promos started to emerge from Pay TV and some mobile Telcos. However, it is the more recent move from soft marketing promotions to harder long-term TV and triple/quad-play bundles, that is truly adding more and increasing that aggregator role with consumers able to save money.
Super aggregators of TV content – Commercial Relationships
The challenges of securing interest with SVOD players, building a business case, overcoming integration cost/effort and securing the best commercial model, are all critical components of SVOD aggregation.  Significant variations occur across markets depending on leverage and scale of operators, SVOD market timing, brand awareness and the level of integration/marketing on offer.

Today we have 'soft' bundling, where subscribers pay two separate subscriptions and the SVOD service effectively pays the aggregator a marketing expense. But we also have a growing amount of 'hard' bundling, where subscribers pay for the SVOD service through their aggregator (e.g pay-TV bill). 58% of respondents in our Trends Survey agreed that the industry will see an increase in hard bundles this year.
From a commercial perspective we have progressed through basic promos, longer term promo offers, flexible add-on offers to more comprehensive bundling that in some rare cases now includes multiple SVODs.

Pay TV Aggregator Examples
A common theme with Pay TV is the desire to become the hub for video viewing, controlling the output on the TV and offering the platform for viewing.
Deutsche Telecom (Germany) have increased their ambition to be the hub for all video viewing in the home with streaming services and partners increasing, including Netflix, Prime Video, Sky, DAZN and Disney -all available on the MagentaTV homepage.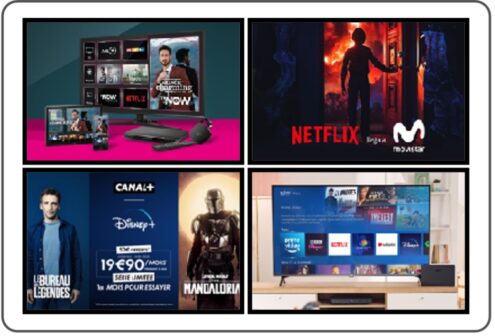 Video remains at the core of Movistar's offer in Spain. They have a leading content proposition, own-content production, all football, movies and TV series from all the major studios and they recognise the need for Disney+, Netflix and others.
Canal+ (France) made a clear move in 2019 to establish themselves as the aggregator for video services, integrating Netflix into their STB and billing and completing an exclusive agreement to carry Disney+ in bundles, amongst other initiatives.
Sky (UK) added Netflix in 2018 but since then, Netflix has become even more heavily integrated in to its European business with the full TV proposition and following Netflix, Disney+, Discovery+ and Amazon Prime video have all been added.
In Comcast's Q4 2020 Earnings Call, Chairman Brian Roberts announced that in the first half of 2021, 'Flex along with X1, will be carrying all of the top streaming apps in the United States. We just added HBO Max. We'll be adding Disney+ in the near future. And we have many more on the road map".
Comcast's vision for further aggregation, shows a clear desire to become the hub for video viewing.
It isn't just with Pay TV where activity is increasing. The Amazon Channels rollout continues, with 2020 launches including Spain, the Netherlands, Italy and Brazil amongst others.
Samsung continues to evolve its Smart TV service, with a new UI and more territorial launches for its integrated AVOD platform Samsung TV Plus. Samsung TV Plus has grown not just the channel volumes but market availability and the number of devices supported.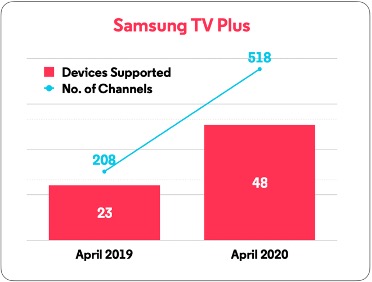 Super aggregators of TV content – Wrap-up
The aggregator landscape is crowded, and we will see more launches.  The start of 2021 saw former Disney and Discovery executives [preparing to launch]a new aggregator called Struum, whose exclusive aim is to aggregate content from smaller VOD services under its own subscription.  Amazon, and likely Apple, are not done with their aggregation plans and other CE Manufacturer and streaming players will innovate further in this space.
Aggregators can co-exist – with different types of viewer, different use cases and significant market variation. But to dominate the main TV set in the home there are specific needs.  For OTT service providers, whether you are a global SVOD streamer, a local niche SVOD or a broadcaster backed AVOD service, we are entering a new paradigm for the aggregation of video. Partnerships are many levelled, with clear road-maps needed to get to the optimal situation.
App Store relationships are relatively straightforward. However, the broader market for Aggregators continues to change, with new players coming in and more change likely in the dynamics between those relationships – aggregators and device manufacturers and new streaming services.  But all of this is in the context that these are positive models, providing a service to the consumer and offering synergies between aggregators and 3rd party content services.
Pay TV is well placed for this role – but its advantage will erode over time and in situations like we find ourselves, the key winning solution hasn't showed itself yet.  However as this changes, it is critical for content owners to keep a close eye on the ecosystem as it develops.
TV Trends in your inbox? Fill in your details to subscribe to the MIP Newsletter →
For more information on TV Trends, attend MIPCOM and MIPTV
Read also our article on the future of TV distribution by Ampere Analysis
For more details visit: https://www.3vision.tv