Virtual reality trend : kids audience and metaverse.
You'll hear a lot in 2021 about the 'metaverse' – an immersive, global, always-on, omni-experiential space for entertainment, learning, play, creation, communication, socializing and more. The concept is still emerging, but all signs point to the metaverse being inherently engaging for children and teens, solving some of the big problems they encounter when navigating their current media environment.
Kids Audience – 'Mediaverse' to Metaverse
Just as the universe is made up of individual stars, the metaverse will encompass thousands of brands, what Dubit refers to as kids' "mediaverse." For its Trends tracking survey, Dubit asks kids 2-15 in 20 different countries to share their favorite things at the moment (e.g., top-three TV shows, apps, social media, games, books, toys). Asking an open-ended question rather than presenting a checklist of current brands lets us measure the reach of global hits and spot coming sensations early on.
In fall 2020, across five countries, kids mentioned 1600 unique brands. That number includes a "big head" of just a few mega-brands (e.g., LEGO, YouTube) and a "long tail" of stories, games and products only mentioned by a few but likely of passionate interest to that cohort.
It's not surprising that young people often such a massive constellation of unique intellectual properties to be overwhelming. Roughly 60% of kids surveyed for Trends say they get frustrated when trying to find their next new favorite.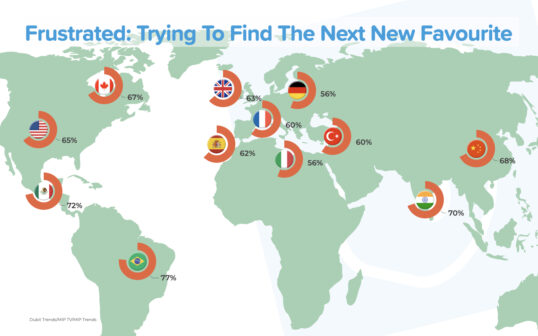 Children generally have only 3-4 top-of-mind brands at any moment (though they interact with many more). Moreover, today's youth doesn't segment media offerings the way previous generations did. Their choice isn't 'this channel or that one,' but 'what meets my mood and need right now – a game, video or app?; on my phone or my TV?; alone or with friends?; consuming or creating?'
Kids audience & metaverse : a brand can only rise to prominence if it :
responds to a very common emotional state
is both widely and immediately available when the child wants or needs it
displaces an existing favorite.
Taming Chaos
Coalescing the mediaverse into the metaverse should put organization to the chaos. At present, multi-platform content discovery is like being given a paper map and told to find a specific location and the best way to get there. A metaverse will be more like navigation software, with prompts, algorithms and AI beneath the surface to guide connections and recommend other places of interest.
Trends' brand mediaverse is 'de-duplicated'; whether "Paw Patrol" is mentioned as a favorite TV show, app or toy, it only counts as one brand. Still, by looking across all categories, we can deduce that high-passion brands are those kids want to experience across as many platforms as possible. The list includes physical products (LEGO, Barbie), pre-school TV series (Paw Patrol, Peppa Pig), and digital social games (Minecraft, Roblox), but all have 'global' presence.
Kids usually discover a new brand via its original or primary platform – LEGO as a toy, Peppa as a TV show, Minecraft as a sandbox game. If they become fans, they'll adopt other forms – watch the movie, wear the t-shirt, buy books – pursuing the brand more widely as their fandom deepens. That's been a chore for kids in a world where media, technology and products are fragmented.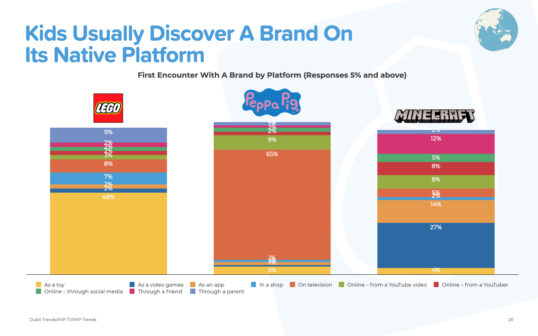 The metaverse embraces multiple forms of engagement, and so should offer more natural pathways for children to expand and express their passions. Watch the video, play the games, explore the canon, socialize with other fans, buy the 'skin', do the dance, post fan fiction – in a fully-formed metaverse, all these options will interweave so that creations, purchases and personas will be persistent and accompany the player through the space.
Kids audiences & metaverse – The Metaverse Will Be Televised
Will there be television in the metaverse? There had darn well better be.
For all the talk of games and social media, video viewing across the "big 4" devices (TV, phone, tablet, PC) accounts for a larger share of children's and youth time than games or any other media engagement. A metaverse without viewing spaces would defeat the entire purpose, releasing young people outside the immersive space for their favorite activity, and in the process foregoing the above-mentioned opportunities to knit a cohesive brand experience.
A recent Dubit experience is illustrative. We'd developed a small Roblox experience with characters and settings from a new television special (a tease for an upcoming series). As players discovered the game, chatter arose around this new content, including UGC YouTube videos speculnnating as to its origin. Imagine if the new fans could have stepped instantly into an immersive theater to watch a trailer or short episode?
For the most part, video currently doesn't engage the interactivity kids love in games – where to take the story, how to overcome obstacles, whether to collaborate or compete. With integrated platforms in the metaverse, there will be new opportunities for interactive video or linked experiences, further heightening fandom.
What do television brands and properties need to do to be metaverse-ready?
Consider how you'll position your story world in an immersive and multi-function space :
Will your IP be embedded in a channel or uber-branded space, or standing on its own?
How will you promote discovery, whether by existing fans or those searching for something new?
How will users navigate your video library, and what will motivate them to sample other expressions of the brand?
Do you have enough content – video or otherwise – to keep young people coming back; how often will you need to refresh or add to your content?
How will kids share their love for the brand – what's available within the metaverse to 'rep' their fandom (e.g., skins, collectibles), and what products will they want in the real world, too?
How much 'space' do you want to allow for fan fiction, art or game/experience creation?
Finally, what's the plan for sustainability? Advertising, subscriptions and micro-transactions seem like the most visible business models for the metaverse.
The metaverse will be a great space for launching and growing brands. With direct access to the audience, there's no need to go through a gatekeeper or commissioner. That's a two-edged sword: control is great, but going it alone means competing head-to-head with the 'mega-brands' at the big head of kids' mediaverse. Surely, in the coming years, we'll be seeing lots of innovation in development and new forms of marketing alliances.
Discover more on how to make your brand metaverse compliant through our exclusive white paper on "KIDS Audience & METAVERSE – The latest trend in virtual reality"
TV Trends in your inbox? Fill in your details to subscribe to the MIP Newsletter →
For more information on TV Trends, attend MIPCOM and MIPTV
You can read also : Financing TV Production : The Magic Money Tree Grows…
Super aggregators of TV content
AVOD post-lockdown opportunity